< Back to all posts
10 Tips for Shooting Video in Cleveland
Cleveland is Ohio's largest city and is named after Moses Cleaveland, who led an expedition to Northeast Ohio. Reportedly, the additional "a" was ditched when the editor of the "Cleveland Advertiser" didn't have room for it on the publication's masthead. Cleveland has many historical landmarks that truly tell this city's story. But what should you know before shooting in Cleveland? We talked to DP Bob Matzen about ten tips for your next video shoot in The Rock and Roll Capital of the World.
10. Permits:
"Shooting footage in Cleveland does not require permits unless producers plan on interrupting traffic or wish to close a street," Matzen said. Permits for such productions can be secured from City Hall or with assistance through the Greater Cleveland Film Commission. Be aware that the film commission generally works with movie producers and not so much with video producers. Consider submitting permit applications well in advance of your proposed shooting date, as processing time can vary based on the location and project. You will also need to include a site plan with any film permit application. To find out if your project requires a permit, or if you are not sure what specifics are needed in your permit, click here to access the Greater Cleveland Film Commission.
9. Trivia:
There are many attractions around Cleveland and several fun facts that make this city unique. Before visiting, it would be both beneficial and rewarding to know some Cleveland trivia. For instance, Cleveland was the first city to be lit electrically in 1879. It's the first to use an electric traffic signal, which was installed on Euclid Avenue and East 105th Street. Also, Cleveland gave Superman his big break. Before descending from Krypton, Jerry Siegel and Joe Shuster created the man of steel in 1933 while still in high school. "In 1952, DJ Alan Freed coined the phrase 'Rock & Roll' on his local radio show and produced and promoted the first rock concerts in Cleveland," Matzen said. "That is why Cleveland is now home to the Rock & Roll Hall of Fame and Museum."
8. The Rock and Roll Hall of Fame:
Located on the shore of Lake Erie in downtown Cleveland, this historical museum recognizes and archives the most influential and notable figures of the development of rock and roll. In 1986, the Rock and Roll Hall of Fame Foundation chose Cleveland as the Hall of Fame's permanent home. The bold geometric structure is an iconic feature of the city and a definite shot to capture for b-roll.
7. Traffic:
"Getting around Cleveland is easy compared to other cities of the same size," Matzen said. Most major downtown streets have two lanes in either direction with another turning lane in the middle. There are very few one-way streets, which makes navigation easier. All major streets are well marked with large signage. Morning and afternoon rush hours are times to avoid traveling, so plan ahead!
6. Weather:
The climate in Cleveland is typical of northern Midwest cities. Summer days can get very warm and humid. Winters can be very cold with a lot of snow that can be enhanced by the "lake effect" from Lake Erie. The west side of Cleveland generally gets much less snow than the east side. Summer thunderstorms can be severe at times and can come up quickly over the lake.
5. Food:
Cleveland is home to Michael Simon from the ABC series "The Chew." He has several restaurants around the city. Other popular restaurant areas for dining include East 4th Street, the Warehouse District, The Flats, Ohio City neighborhood, Little Italy, and the Tremont neighborhood. For some of the top restaurants to check out, click here.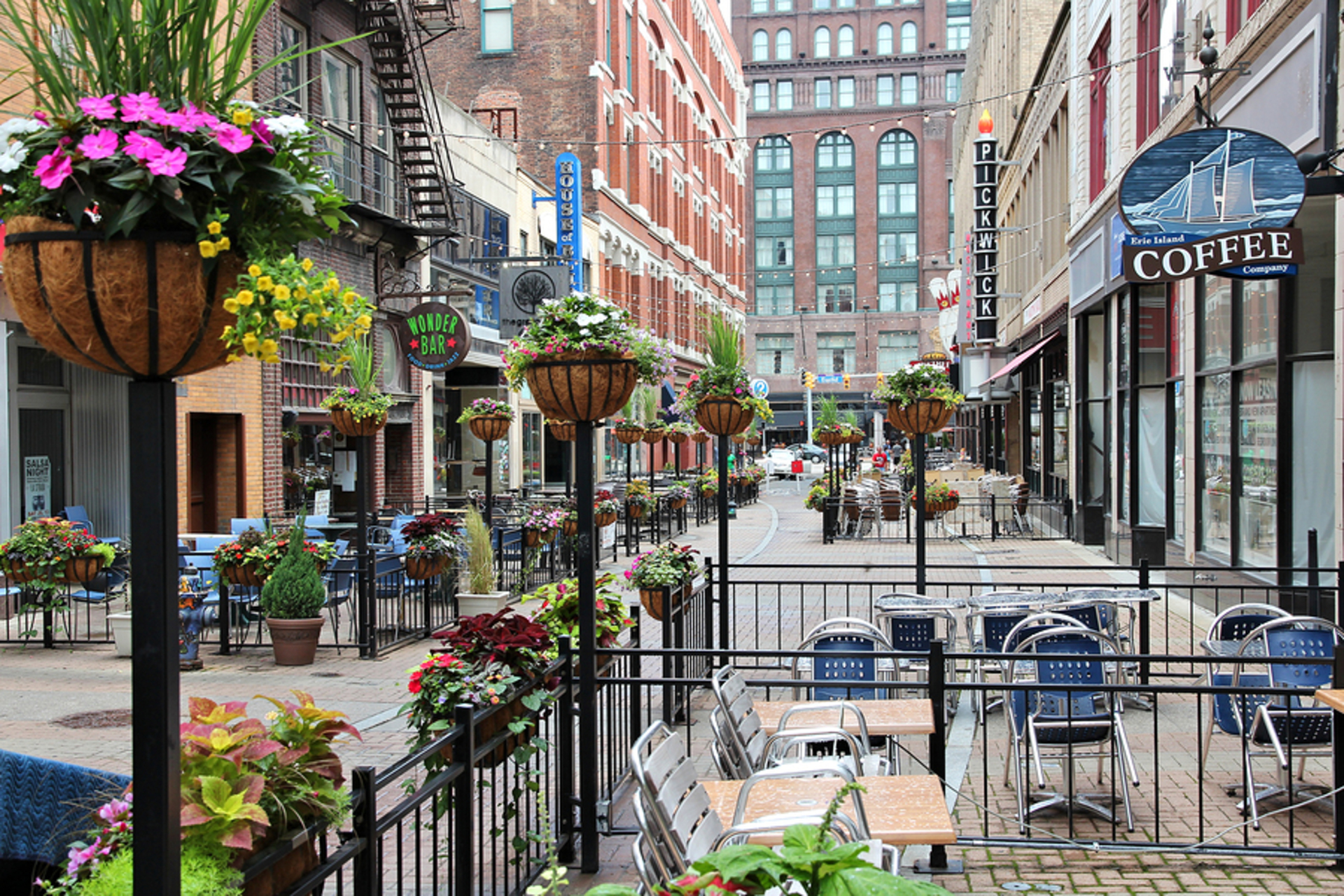 4. Sports:
Cleveland is the only city in Ohio with three professional sports teams – the Indians, Cavaliers, and Browns. Depending on the season, there are several opportunities to watch a game or capture b-roll of each stadium for a signature Cleveland shot.
3. Skyline:
Cleveland's downtown skyline lights up over Lake Erie and has many iconic structures such as Terminal Tower and Key Tower. There is also a view from Voinovich Park looking back to Cleveland's northern skyline, and another from Edgewater Park looking east to the skyline. Filming any one of these shots is highly recommended when in Cleveland.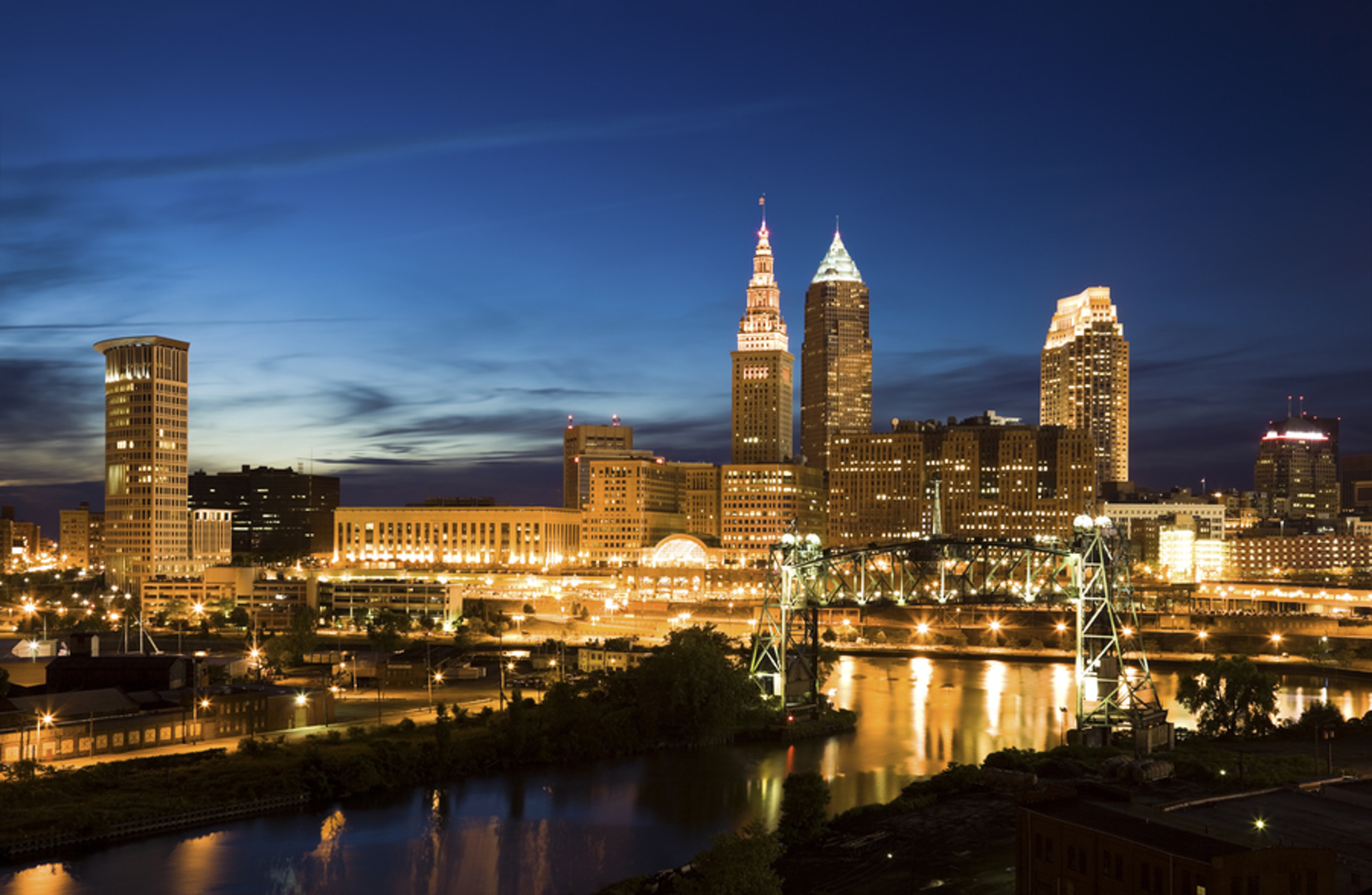 2. Parking:
Cleveland has a variety of surface lots and parking garages. Many garages will not allow full-sized vans due to restricted height requirements. Garages fill up quickly in the morning on workdays and some only allow for reserved parking. There are many streets that have parking at meters, but beware – ticket writers are everywhere and will issue citations immediately for expired meters. Do not park on any street marked with "No Parking" signs. "The City of Cleveland has a fleet of tow trucks, and your vehicle will be removed very quickly," Matzen said.
1. Theatres:
What many people don't realize about Cleveland is that it has the largest live theater district outside of NYC. All of the theaters built in the 1920s – 1930s have been renovated and brought back to their original condition. "Playhouse Square Foundation operates the theater district and all the traveling Broadway shows go through Cleveland and are consistently sold out," Matzen said. Feel free to go enjoy a show or get a shot of any one of the iconic historic theatres.
Need more information about a particular shooting location? Contact us today!