< Back to all posts
10 Tips for Shooting Video in El Paso
El Paso, Texas, is a very friendly place and one of the safest cities of its size in the U.S. Not many people know that El Paso's name was shortened from El Paso del Norte, which means "the pass of the north." Three states (Texas, New Mexico, and Chihuahua) and two countries meet in this city along the Rio Grande, making it the perfect place for capturing sunsets, sunrises, and many other amazing sights of nature.
But how should you prepare for a video shoot in this city? We talked to El Pasoan and DP Larry Emerson about ten tips you should know before shooting video in El Paso.
10. Weather: The "monsoon season" in late July and August provides El Paso with most of its annual precipitation. Late afternoon thundershowers are pretty common, so it is best to plan your video shoot for earlier in the day. The weather is not bad all year long and the annual rainfall is around eight inches. There is usually some snow in the winter, though it doesn't stay on the ground long. Summers can be hot and in the low hundreds, but it's a dry heat. Springtime can be windy and create dust storms. "When you go, be sure to bring sunblock; the only use of an umbrella is for shade in the sun," Emerson said.
9. Museum Row: Downtown El Paso is home to several intriguing museums that can expand visitors' knowledge and appreciation of art, history, and science. Feel free to stop by the Museum of Art, El Paso Museum of History, Insights Science Museum, the Museum of Archaeology at Wilderness Park, The El Paso Holocaust Museum and Study Center, or any others listed here and located all over the city. Not only are these great from a tourist perspective, but also as a DP when getting b-roll.
8. Juarez: El Paso is right on the border with Juarez, Chihuahua, Mexico. From the mountain above downtown, you can't tell where one city ends and the other begins. Sometimes, our clients will ask our crews to cross over to Juarez because of its close proximity to El Paso. If this is the case, remember to bring your passport because you will need it to return. If you intend to work in Juarez as well as El Paso, you will need to stop at Mexican Customs (Aduanas) and get permission. "NAFTA made it pretty difficult to work in any factory in Mexico without a permit," Emerson said. "Equipment must also be 'temporarily imported' into Mexico, and that for us has been a major headache."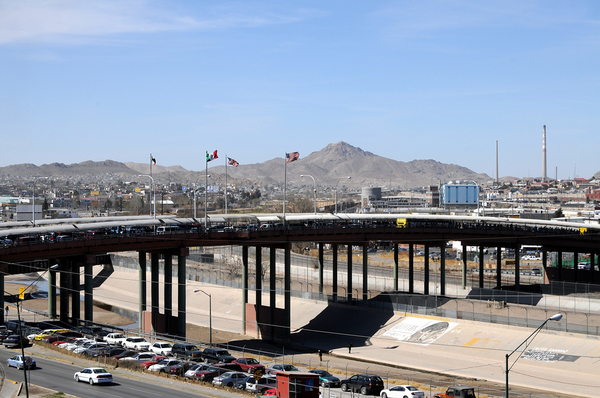 7. Mountains: El Paso sits on the southern tip of the Rocky Mountains and near the northern tip of the Sangre de Cristo. There is a lot to do outdoors with hiking and biking trails. "Remember to take water," Emerson advised. The terrain can be very rocky, so remember to bring good shoes as well. El Paso is close to the Carlsbad Caverns National Park, the White Sands National Monument, the Gila Cliff Dwellings, and several wilderness areas. Guadalupe Mountains National Park is pretty close to El Paso and contains enormous mountain peaks that make for eye-catching b-roll.
6. Language: The largest language spoken at home is Spanish, followed by English. Spanish is spoken very regularly in public as the city is considered bicultural and bilingual. Not knowing Spanish won't cause problems during your time in the city, but brushing up on your Spanish may enhance your experience and make interactions with locals easier.
5. Transportation: Public transportation is available thanks to Sun Metro. "There is a bus route around El Paso and it is improving," Emerson said. You are also able to rent a car through Hertz, Budget, and Avis. This may be the most ideal form of transportation for crews with a lot of equipment. El Paso is currently putting street cars back into a route around the university and downtown as well.
4. Permits: Film permits are generally required when shooting in El Paso. In order to film, you must acquire a minimum insurance written by an insurance company provided by the state of Texas. It must be acceptable to the city of El Paso and issued in the standard form approved by the Texas Department of Insurance. For more information about attaining a permit in El Paso, click here to go to the El Paso Film Commission's website.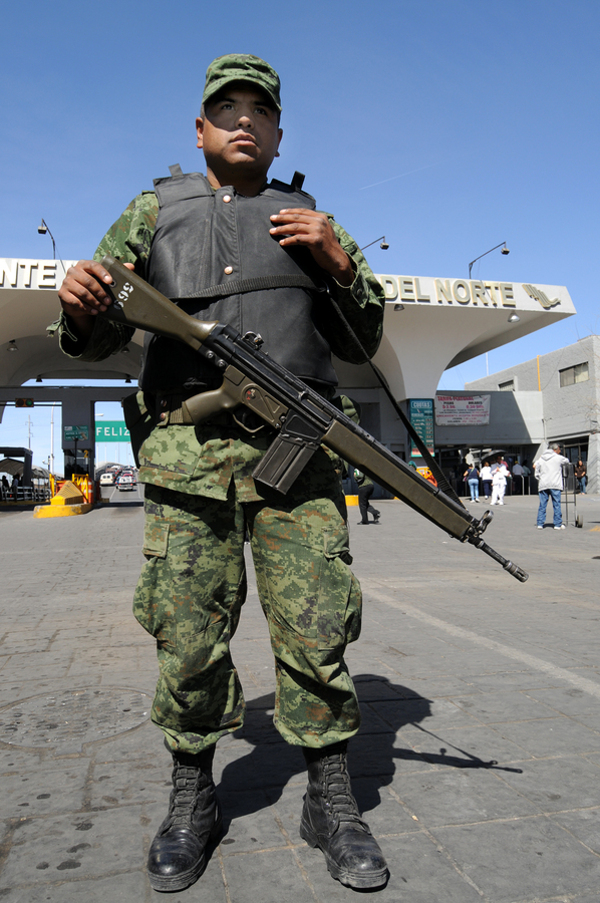 3. U.S.-Mexico Border: "Customs and Border Patrol have agents at the bridges into and returning from Juarez and also stationed along the border," Emerson said. U.S. Customs will permit photography at the border and border crossings, but you must have permission or be prepared to be taken into custody. There is a public affairs office to assist in border photography.
2. Food: El Paso is teeming with mouth-watering cuisine with a giant influence from its southern neighbor. Some of El Paso's most famous and most popular restaurants include Cafe Central, Julio's Café Corona, and L&J Café. Stop by any one of these locations for delicious food featuring Tex-Mex, Southwestern, or traditional Mexican fare. You won't regret it!
1. El Paso Historic Mission Trail: Located in El Paso's Lower Valley, these historic churches date back 400 years as living testaments to Spanish and Indian faith. The architecture of the Ysleta Mission, Socorro Mission, and San Elizario Presidio Chapel will take your breath away. These structures hold so much history that is unique to the city. Capturing some shots at this location is a must while in El Paso, since they are truly iconic to this festive town.
Want more insight on shooting video in border cities? Sign up for our newsletter today!