< Back to all posts
Why Big Business is Embracing Video Production
Over the past several years, big companies have started to invest more heavily in video content than ever before. Take a look at exactly why video has become necessary for marketing departments looking to make an impact:
Using video in an email increases click-through rates by up to 300%.
Using video on a landing page increases conversions by up to 80%.
Mobile video rises each year by an estimated 100%.
Video makes users just under 65% more likely to make an online purchase.
If a prospect enjoys your video content, they become 97% more likely to make a purchase and have brand association improved by a whopping 139%.
Clearly, video content is changing the way marketing works. Likewise, media departments have been forced to change. The content they are being forced to produce is changing. If you want to start enjoying the benefits of video content listed above, you need to embrace the new way of media.
Here are five important ways today's media departments are evolving that you must be aware of:
1. Creating a Wide Variety of Content
Video media itself has changed dramatically over the past several years. The explosion of mobile devices has fundamentally changed the way people interact with video. In fact, more than half of all YouTube views are directly from mobile devices.
In addition to that, there are more types of video content available than ever before. A good media department needs to know how to shoot all different kinds of footage:
Live streams. Companies are creating great content by streaming conferences, live events, or Q&A sessions and sharing them with their online audience.
Testimonials. People don't trust advertising the same way they used to, so it's important to get an unbiased opinion in front of your audience. Video testimonials are the perfect way to do so.
Demo and product videos. Considering how powerful video is on marketing materials like emails and landing pages, you need strong, focused pieces about your most important products and services.
Of course, these are just a few examples. You'll need plenty of video advertisements, and all types of different shots. You need different equipment and expertise for indoor shots versus outdoor shots, for example, and even more specialized expertise if you want something more exciting, like drone footage.
2. Requiring More Content Than Ever
Video marketing was simpler several years ago. Because you only needed to worry about video advertisements and perhaps a YouTube channel, there wasn't as much demand for a constant flow of content.
Today, however, the opposite is true. Think about all the different pieces of content we discussed in the previous section that you'll need to create. Beyond that, you need a steady flow of video content on your website, social media or YouTube channels in order to keep subscribers engaged. Experts suggest creating as much content as you possibly can.
Most importantly of all, this content must be high-quality. Your competition is putting out a ton of video content themselves, so if you're churning out low-quality content it won't produce the desired results.
3. Outsourcing Tasks Instead of Keeping Them In-House
Today's media departments are creating more types of video content than ever before. At the same time, they're forced to create more and more of it. It's easy to understand why many companies are hesitant to take on such a herculean task by themselves.
It's especially important to consider the benefits of outsourcing in regards to so many different types of content. Live streams should be produced much differently than a video ad. If you want drone or underwater footage, you'll need a particular set of equipment and skill sets. Simply shooting in new locations may require expertise a team doesn't have.
For these reasons, many media departments are starting to turn towards outside help for their video content. The benefit of using us here at Crews Control, of course, is that you can maintain a single point of contact for all these expert crews around the world.
4. Leaving the Agency Model
The traditional agency model is slowly dying. More than ever, today's businesses are hesitant to rely on a single agent-of-record and prefer to utilize an in-house staff that's augmented by a variety of outsourced experts. Best Buy is a terrific example of a company making this change, and other industry behemoths such as Apple and Google have, too.
Best Buy decided to make this change because they simply weren't satisfied with the level of work they were outputting. Switching models allows them to tap into a huge pool of highly skilled, highly specialized media professionals. This provides greater flexibility, scalability, and most importantly – quality.
5. Switching Focus Away From Print
One of the biggest changes in media departments is that print advertising is simply not as important as it used to be. From 2014 to 2015, total U.S. ad spend for print media dropped by 7.9%. Digital ad spend, on the other hand, grew by an incredible 13% – more than the percentage growth of outdoor, cinema, radio and TV ad spend combined.
There are a number of reasons for the decrease in print spend. First of all, circulation of traditional newspapers and magazines are continuing to decline. With so many new and exciting channels, they're simply not as viable as they once were. Additionally, many campaigns that were once completely paper-based are now being digitized, such as coupons being delivered via text message or mobile application.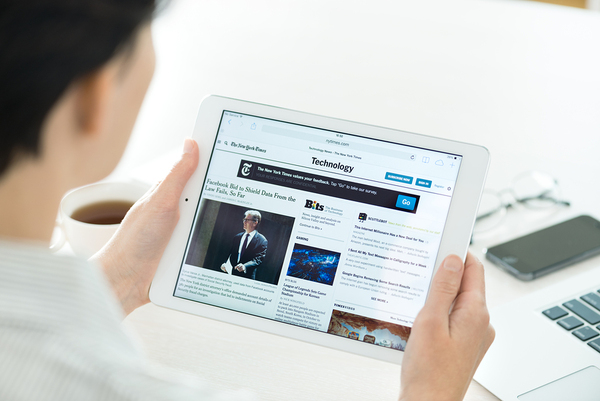 If you're looking to augment your existing media department with expert video crews from around the world, Crews Control is here to help. We'll help you find the perfect crew for every job without having to scout and manage them yourself. To get started, simply click here today for a free quote!