< Back to all posts
How to Keep Your In-House Creative Team Fresh
One of the biggest challenges leaders of creative teams face is ensuring that they keep delivering fresh, innovative content. Striking upon a great idea one time is a challenge, doing it over and over again is often impossible. Sometimes, the creative juices simply stop flowing and the team needs a push in the right direction. You can't simply outsource every single task for a new perspective, so it's important to find out how you can keep your in-house team engaged.
Here are eight ways that you can inspire your team to stay creative and keep their ideas as fresh as possible:
1. Encourage Collaboration
Some departments, like sales, thrive in a competitive environment. Creativity, however, is just the opposite. Creative teams do their best work when they're shooting ideas back and forth, talking about how to improve their work. If you want to keep ideas fresh, you must develop a team-first environment. Reward sharing and collaboration by making bonuses team-based. Ensure that your team has the chance to share their great ideas with each other by designing their work space to be open and collaborative.
2. Give Them Time to Think
Creative professionals need a chance to take a step back and catch their breath more than any other workers. In fact, a recent academic study found that allowing one's mind to wander, or daydreaming, is an important spark for creativity. This means you need to provide your creative team free time throughout the day to relax and get work off of their mind. If you want to go the extra mile, you can sponsor activities that might inspire creative thoughts, such as a company hike or visit to the local museum.
3. Keep Them Thinking
A creative professional's greatest tool is their mind. If you want them to produce great work, it makes sense to help them keep their mind sharp. Keep them motivated and intellectually stimulated by providing plenty of opportunities to grow professionally. Guest speakers talking about creative or industry-relevant topics can spark inspiration. You should also encourage them to attend creative or industry conferences and pay for classes to improve their existing skill set. Not only will this inspire them, it will give them an even larger toolbox to work with and bring to your organization.
4. Institute Weekly Meetings
Having a meeting each week is beneficial. First, it allows professionals working on a project in different capacities to keep current on the progress of their colleagues. Most importantly, however, it allows them to share problems and inspiration. During these sessions, the team can work together to bounce ideas off each other to find solutions. Simply gathering together to talk about various projects may spark some creativity once everybody starts talking about their work and getting their juices flowing.
5. Open Lines of Communication
It's clear that collaboration and the sharing of ideas is a key to fostering creativity, so giving your team the right tools is imperative. A chat room application such as Slack allows your team to message each other privately with ideas or create channels for each project. The benefit of collaboration tools like these is that the team doesn't have to be physically present to participate. They can hop on and share their two cents if they're on vacation, working from home, or in a completely different office. Not only will it drive freshness, it also helps keep everybody accountable and current on problems and updates.
6. Involve Them From the Beginning
Your creative team should be involved from projects from the very beginning. By getting them in on the ground floor of the project planning, they'll feel greater ownership and accountability for it. They'll feel like a true part of the project team. This keeps them engaged and encourages them to do the best job that they possibly can.
Beyond that, this also gives your creative team as long as possible to brainstorm great ideas for their part of the project. Combined with greater ownership for the project and you'll be sure to see terrific results.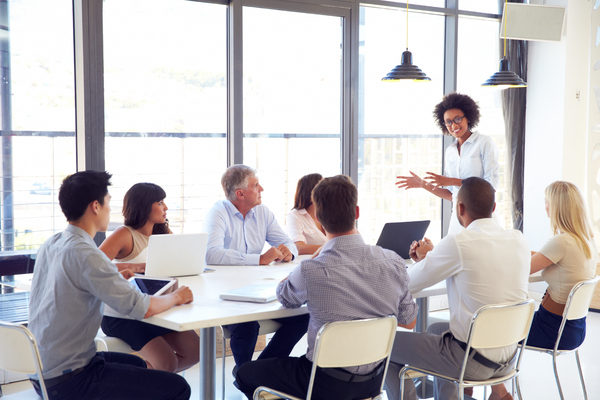 7. Look at the Competition
Creativity doesn't mean doing something that hasn't ever been done before, it simply means putting your own unique spin on something. Make sure to regularly share other projects with your creative teams. This should be examples of what your direct competition is doing and also examples of exceptional works that you happen upon. Giving them additional sources to draw upon simply gives them more to use for their next project. Even if the competition is churning out sub par content, it will give your team an idea of what not to do.
8. Get an Outside Perspective Occasionally
Sometimes, your team is working too closely to a project to be able to pull back and take a look at it. This is one of the reasons that using an outside team is a huge benefit. They'll be able to provide ideas and insights that a biased member of your internal team might not be able to see. Beyond that, simply working for another company gives them a completely unique perspective and set of experiences from your own internal employees. Most importantly, they'll be able to pass their own strengths onto your internal team, making them more equipped to handle similar projects themselves in the future.
If your in-house creative team needs an injection of creativity from an outside team, make sure to reach out to us here at Crews Control. We'll help match you up with the perfect video crew for the job, ensuring that your team work with the right creative team for each and every project.
For a free quote on your next video crew, all you have to do is click here.