< Back to all posts
LinkedIn Video: A Quick Guide for Long-Lasting Success
First, there was YouTube. Then came Facebook and Vine, followed by Periscope, Meercat, Glide, and even more options.  Now enter the highest used professional networking site – LinkedIn.  What better platform to showcase corporate videos, but what is the best way to engage this target audience with video?
How Did This Happen?
The popular professional media site was launched in 2003 and expanded worldwide five years later; today, it boasts over half a billion users. In August, LinkedIn announced the addition of a new video feature on its mobile app which allows the user to tap an icon, record video using their smartphone or tablet, and post it to their LinkedIn profile (they can also upload other videos using the app). This service is currently available only to U.S. users, but LinkedIn says it does have plans to extend the feature globally.
The company foresees its video feature being used in a variety of different ways. For instance, users could record interviews with influencers at industry conferences. Or they could showcase a particular piece of equipment, manufacturing process, or technological advancement. They could upload company-related video to showcase the opening of a new location, groundbreaking ceremonies on a new project, and similar milestones; or they could go "behind the scenes" at a company or event to share shots of interest to their followers.
The Smart Phone vs. The Corporate Video Crew
While the creation of LinkedIn Video may be a fun toy, it shouldn't be viewed as a substitute for the production of a corporate video. For one thing, the production values of a LinkedIn video shot with a mobile device are inferior to an expertly-produced video by an experienced crew. Even though the raw quality of the video produced on a smartphone or tablet might be impressive, the finished product will almost certainly be plagued with shaky camerawork, inconsistent lighting, and/or poor sound quality – none of which would be present in a professional corporate video.
But visual quality is not the only shortcoming of a self-made video on a mobile device. The corporate video medium allows companies to tell a multifaceted story as opposed to recording a single interview, activity, or process. Corporate videos can be crafted to perfectly impart the company's message and values to the audience while providing a more comprehensive representation of the company's brand. Try doing that with a smartphone and no editing software.
Go With the Pros
LinkedIn Video provides the option of uploading premade videos from the phone to the platform, allowing you to take your professional corporate video and display it on LinkedIn Video. This might be a sensible distribution channel if it aligns with your company's social media strategy.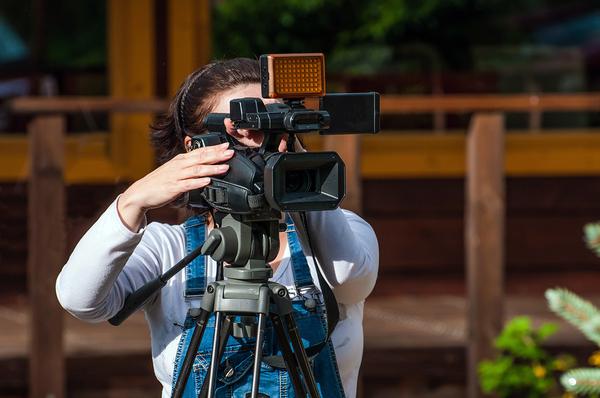 But trying to apply LinkedIn Video snippets toward marketing functions that are better suited for professionally produced videos (in an effort to save money, for instance) is not an effective approach. Doing so risks inflicting damage on your brand and company reputation – much like what would happen if you relied on text messages to distribute contracts, agreements, or other important correspondence to your clients.
Experienced video production companies can construct a video to meet your marketing needs, but they can also work within budget constraints of companies who don't have the cash to fund a feature film-type production. So while LinkedIn Video might be adequate for the social media world, don't rely on it to address the wide range of marketing purposes which are better suited for a customized, high-quality corporate video.
Corporate videos probably don't cost as much as you think. Get a quote from us today!