< Back to all posts
Tips for Shooting Video in Seattle
Seattle is a delightful city in which to film. Nicknamed the "Emerald City" by tourists due to its lush green forests and thousands of acres of parks within its city limits, Seattle pairs an urban landscape with beautiful features of nature. This city offers a variety of shots for crews and plenty of points of interest for both visitors and locals.
We talked to Seattle local and DP Jim Watt about everything you need to know before shooting video in the Emerald City.
10. Permits: Arranging a permit is easy and inexpensive. "It is $25 for 14 days of consecutive filming.  Days beyond that are $25 per day. This fee is regardless of the impact your permit has on the city," Watt said. A number of circumstances may require your production to obtain a film permit from the City of Seattle, including filming in City Park, interrupting pedestrian or vehicle traffic, and commercial filming. If your production meets any of these criteria, you should apply for a film permit. The one-stop spot for film permits is the Seattle Office of Film & Music, which you can visit here.
9. Skyline: Seattle has a magnificent skyline with many locations where you can capture it. For instance, you can get a great shot of the skyline from across Puget Sound near Alki Point. Ships, salmon fishing boats, and Seattle Ferries pass in the foreground. "A quintessential location is Kerry Park on Queen Anne Hill that looks south toward the Seattle skyline with the Space Needle in the foreground – and on a good day, Mt. Rainier in the background," Watt said.
8. Traffic: Driving in the Seattle area is not the most attractive element the city has to offer. Evening rush hour ranks about the second-worst in the country. North and south traffic on Interstate 5, which runs through the city, is dreadful. East and west across Lake Washington on Highway 520 and Interstate 90 is no picnic either. You really need to budget in expanded travel times while in the city.
7. Washington State Ferries: These are another great experience, and you can get great shots of the San Juan Islands and Seattle. "The ferries are also a great place for MOSs since you have a captive audience – noisy, but captive," Watt said.
6. Pike Place Market: This famous market attracts over 10,000 visitors a day during the summer months.  The first Starbucks is located in the market; plus, the famous Flying Fish will make a terrific sequence to film. For those who don't know what this is, the fish mongers love to throw fish from out front on the ice to their counter mates when they make a sale. They'll even throw you one if you'd like!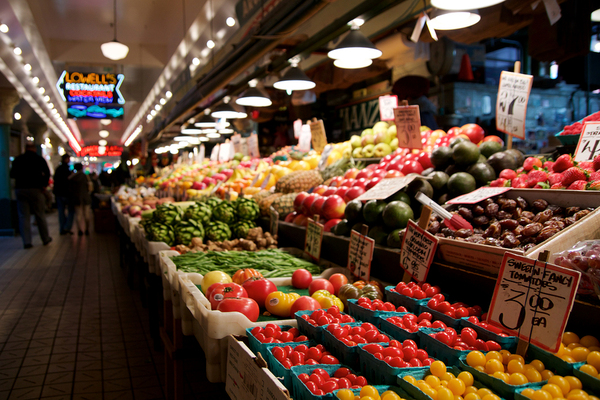 5. Olympic National Park: Olympic National Park, on the Olympic Peninsula to the west of Seattle, is only about four hours away. So while it is not directly in the city, the views in this breathtaking landscape are worth the distance. The Cascade Mountain Range to the east is less than an hour drive depending on where you want to go. "Mt. Rainier is about a 2 ½-hour drive south from downtown with year-round glaciers and snow," Watt said.
4. Food: Dining in Seattle is known to be exceptional. Every concierge in town has his or her own favorites, so it is rare to go wrong when it comes to cuisine. Some popular restaurants include Hitchcock Restaurant, The Walrus and the Carpenter, The Pink Door, and Canlis. You can check out more of Seattle's best restaurants here.
3. Lake Union: The freshwater lake is entirely within Seattle and a lively spot with many attractions. The waterside neighborhood has plenty of shops, bars, and restaurants to keep you busy and capture the atmosphere of Seattle on video. "There is a very active float plane operation on Lake Union, Kenmore Air, which offers shuttles to the San Juan Islands, Vancouver, and Victoria, B.C.," Watt said.
2. Space Needle: This landmark is probably most iconic to Seattle. The rotating SkyCity Restaurant is a tourist favorite. The 605-foot tall landmark was completed in 1961 for the 1962 World's Fair. Capturing a shot of the Space Needle is essential to any B-roll you take while visiting, and the views from the observation deck will take your breath away.
1. Weather: "Only a fool predicts the weather in Seattle," Watt said. "My apologies to all our local weathermen and women who do a terrific job of reading their 'crystal balls' to figure out what is coming." The average temperature in Seattle is 52ºF and annual rainfall is 34.1 inches (which falls on 152 days in each year). The rain keeps the city green. The months of July, August, and September tend to have the best weather, but that also means that the city is full of tourists during that time. There are 226 cloudy days in Seattle; some have light mist, while others feature light rain or heavy rain. "If you're visiting Seattle, bring a rain jacket and a cover for your cameras and mixers," Watt said.
Want more tips on shooting in American cities? Sign up for our newsletter today!