< Back to all posts
Tips for Shooting Video in Albuquerque
Albuquerque is New Mexico's largest city and rests in the high desert. The city was founded in 1706 by the Spanish and named after the Duke of Albuquerque. But this historical landscape is more than just where Breaking Bad was filmed and where High School Musical takes place. There are many geographical feats surrounding this area and plentiful locations that make Albuquerque one of a kind. But what should you know before you shoot video in The Duke City? We talked to DP and New Mexico local Cindy Whitaker for some helpful hints about shooting in Albuquerque.
10. Traffic: Unlike other cities, Albuquerque is not known for having dreadful traffic jams. "We have a freeway that goes through the middle of town so it doesn't take long to get wherever you are going," Whitaker said. Parking is generally easy to manage while in the city. Just be sure to be wary when parking around the University of New Mexico.
9. Petroglyph National Monument: Made of volcanic basalt escarpment, the Petroglyph National Monument stretches 17 miles along Albuquerque and protects a variety of cultural and natural resources. With five volcanic cones, hundreds of archeological sites, and over 24,000 images carved by the Ancestral Pueblo peoples and early Spanish settlers, this intriguing location offers fascinating insights into the historical heritage of New Mexico.
8. Permits: The Albuquerque Film Office offers free assistance and information to anyone who films in the city. It is recommended that you check with this office before any kind of shooting even though few permits are needed for filming in the Albuquerque area. Click here for more information on permits.
7. Incentives: What many producers don't realize is that if you shoot a movie in New Mexico, you will get a 25% back incentive. If it's a series, you get 30% back! "However, this is the reason we have to charge tax on all of our productions, unlike other states," Whitaker said.
6. Hot Air Balloons: The city's dry climate is ideal for hot air ballooning. During the first week of October every year, Albuquerque hosts the International Balloon Fiesta where balloonists and onlookers from all over the world come to Albuquerque to observe this breathtaking spectacle. It is considered to be the most photographed event in the world! You'll witness hundreds of balloons soaring in the beautiful blue New Mexican sky and capture stunning shots of b-roll.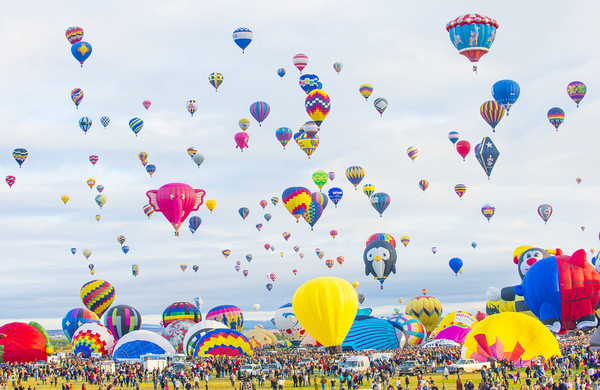 5. Sandia Peak Tramway: This aerial tramway stretches from the northeast edge of Albuquerque to the Sandia Mountains. You'll get a great view of the Rio Grande Valley, deep canyons, and terrain that will leave you in awe. A sunset spent in one of the cable cars is certainly one to remember and a must while visiting Albuquerque.
4. Food: Albuquerque cuisine is a fusion of Spanish, Mediterranean, Mexican Pueblo Native Americana, and Cowboy Chuckwagon influences. Famous New Mexican dishes include Blue Corn Pancakes, Green Chile Cheeseburgers, Posole, and Carne Adovada. Some famous restaurants you have to experience while in Albuquerque include Antiquity Restaurant, Frontier, and Cecilia's Café.
3. Downtown: DowntownABQ's mission is to promote and support economic, social, and creative vitality through community-driven projects and programs. "Downtown has the best places to eat, the best bars, and the best places to hang out," Whitaker said. Capturing this lively region of town is ideal for b-roll and to show off the folks who call Albuquerque home.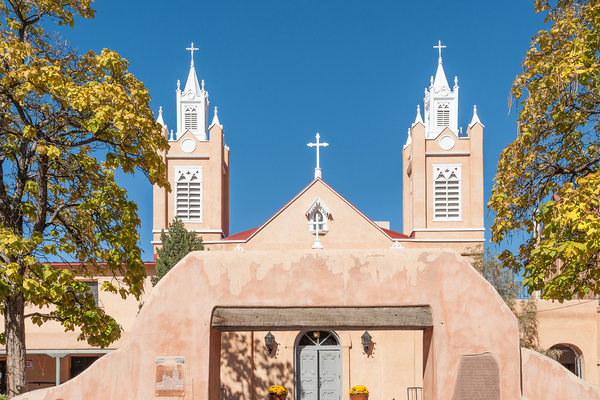 2. Old Town: For over 300 years, both Native American and Spanish cultures shaped this historic neighborhood. As the city's cultural center with more than 100 shops, galleries, and restaurants, Old Town has always been the heart of Albuquerque since its early beginnings. Church of San Felipe de Neri can also be found here and is considered an iconic shot that adds tremendous character to any b-roll.
1. Weather: The nicest thing about Albuquerque is the weather. The city is renowned for having the best year-round weather in the U.S. with its low humidity and warm temperatures. "It can be hot or cold, but it's hardly ever cloudy," Whitaker said. "Our sky is so big and blue it makes for great shots in the city of mountains."
Want to find a crew in New Mexico? Contact us today!