< Back to all posts
10 Tips You Need To Know Before Filming in Louisville
Louisville is Kentucky's largest city and best known for hosting the Kentucky Derby and producing the Louisville Slugger. With mild temperatures and interesting history, Louisville is enjoyable for all sorts of visitors. As the 30th largest city in the U.S., there's plenty to capture on video when you're in the Derby City. We talked to DP Mark Crowner, a Louisville local, about ten tips you need to know when shooting a corporate video in Louisville.
1. Pronunciation
The last thing you would want to do on your visit is start off by pronouncing the city wrong! "Lew-is-vil" is incorrect. Natives pronounce it "loo-a-vul" and even "loo-ee-vil" is acceptable, because the city was named after the French King.
2. Louis XVI Statue
Louisville was named in 1778 after the French King Louis XVI because of the aid and support he gave to the Colonies during the American Revolution. "Too bad the French had our Louis beheaded in their own revolution," Crowner said. This marble statue sits on the corner of 6th and Jefferson, an amazing shot with plenty of skyscrapers behind it.
3. Skyline
Louisville has an impressive skyline that illuminates brilliantly against the water. The best shot of the skyline is across the Ohio River in Clarksville, Indiana. "The second best angle is just to the west, down Riverside Drive and Ashland Park," Crowner says. "Watch out for the time of day. The shot faces due south so mornings or evenings are best."
4. Traffic
Traffic in and around the Louisville area isn't as bad as it tends to be in other major metropolitan areas. Generally speaking, if you're staying in downtown Louisville, you can reach any location in 20 minutes or less.
5. Logistics
Street parking is readily available downtown, and there are also many public parking garages. The Louisville International Airport is centrally located just 15 minutes south of the downtown business district. Rush hours tend to fall between 7:30 to 9:00 a.m. and 4:30 to 6:00 p.m. local time, so make sure to plan accordingly.
6. Food
Of course, Kentucky is famous for its fried chicken, especially considering that Louisville is home to YUM Brands, which includes KFC, Taco Bell, and Pizza Hut. "Feel free to indulge in some original recipe if you see fit," suggests Crowner. He also recommends making a stop at Nord's Bakery near the University of Louisville. "They make a killer Maple Bacon Long John, but my favorite is the Cinnamon Sugar Twist," Crowner says. Other top restaurants include Joella's Hot Chicken, Bristol Bar & Grille, and Jack Fry's.
7. Louisville Slugger Factory and Museum
The famous baseball bats are not just a lyric in a Carrie Underwood song. The famous Louisville Slugger Baseball bats are made in a factory right on West Main Street. There's also a museum where you can see how the iconic bats are made and learn more about their history. It's hard to miss the museum – there's a giant slugger leaning right against it!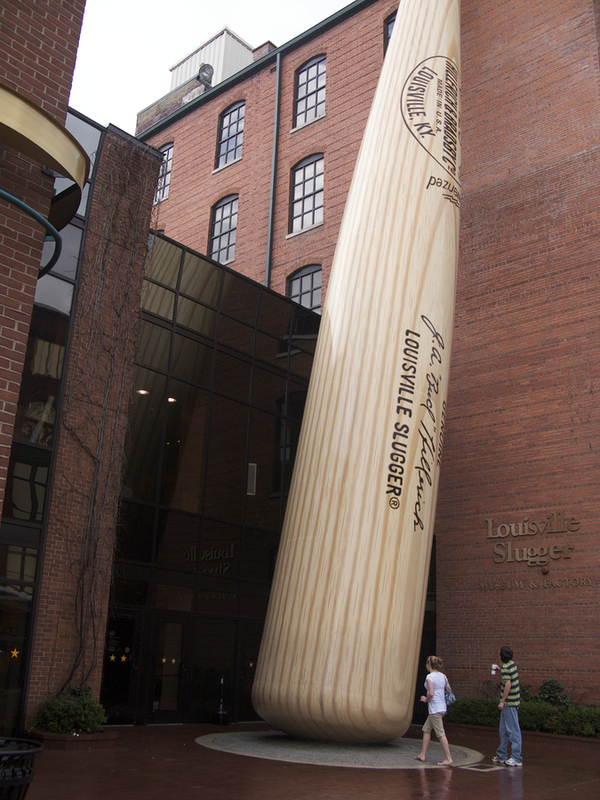 8. St. James Court Residences
This residential block is located in the Old Louisville neighborhood just a bit south of downtown. The Victorian homes are a wonderful opportunity to shoot a local flavor. St. James Court also has a stunning fountain that makes for great footage.
9. Weather
Like many Midwestern locations, weather changes quickly in Louisville. "The most pleasant months to work outdoors are April-May and late September-October," Crowner said. "Springtime always has beautiful blooms and fall has spectacular color." Snow will fall occasionally in the winter, and summers are hot and humid. Cicadas are also active in the summer, creating a loud dialogue of their own in any outdoor shots.
10. Churchill Downs
The Kentucky Derby is run on the first Saturday of May, and is the longest running sporting event in the U.S. Surprising to most visitors is the fact that Churchill Downs is located right in the middle of the city, not surrounded by Bluegrass fields. Crowner recommends getting a shot of Churchill Downs' Twin Spires. Per Crowner, "this is a shot that is tough to get unless you are on Churchill Downs Property, for which you will need permission from the track."
For your next video shoot in Louisville, make sure to reach out to us here at Crews Control to help find the perfect video crew. All you have to do is click here for a free quote!